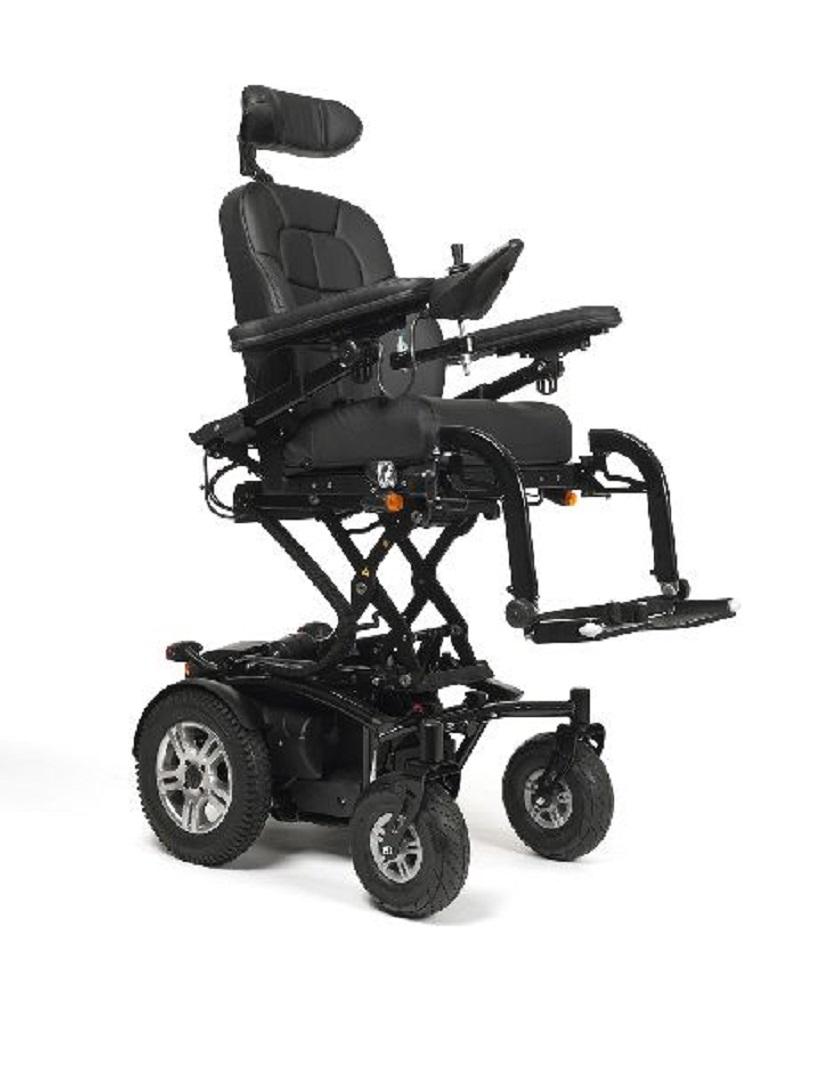 VERMEIREN GROUP, is the Outdoor Electric Wheelchair manufacturer since 1957, and also a major player in the world of medical equipment. For the past years, the VERMEIREN group has specialized in manufacturing wheelchairs, nursing beds, shell chairs, comfort chairs and any other product that may go along with a patient or user in maintaining his autonomy and mobility. The European development and design teams are provided with precision high-tech tools, ensuring in reliability and quality for every single product VERMEIREN produces. Today, VERMEIREN is a group with more than 1000 employees with branches in Europe and Asia.
VERMEIREN delivers products for sale in more than 70 countries globally. Vermeiren India started its production facility at Tricity SEZ, Andhra Pradesh in July 2016. The facility has 17 acres of land with a 25,000 Sqm built-up area employing around 300 highly skilled workforces. This facility is provided with World Class Machines & Technologies for Robot welding, CNC Metal bending, Metal Cutting, Powder coating, Stitching, Plastic injection Molding, PU tyres manufacturing and Assembly lines which enables to manufacture Manual Wheelchairs and Commode wheelchairs. All our Products are CE certified and Crash test sanctioned.
They have never compromised on the quality and the services provided to their customer and thus have an excellent track record for customer satisfaction. Vermeiren India has a production capacity of 1,50,000 Wheelchairs annually which provides to both Overseas and Domestic needs. Due to the introduction of Vermeiren products in the Indian market, customers can expertise world-class products in India. The basic principle of the Vermeiren wheelchair is – "The wheelchair must be adapted to you, not vice versa". All kinds of products can be adopted, have numerous accessories and all options are mutually fungible. This is the outcome of their continuous research and more than 60 years of experience.
Why Choose Us?
Some major reasons why clients choose them are:
Best Quality Products
Ethical policies
Transparent approach
Well-structured manufacturing unit
Spacious warehousing unit
Competitive prices
Best After Sales Services
Outdoor Electric Wheelchair:
Motorized Outdoor Electric wheelchairs, sometimes called as Power Wheelchairs or Electric Wheelchairs, are often a better option for persons who are mechanically unable to move themselves in a manual wheelchair. These wheelchairs mix functionality and luxury to supply one-of-a-type driving dynamics. They are construct for maximum performance and agility in both indoor and outdoor environments. VERMEIREN GROUP, situated in Chittoor, Andhra Pradesh, is an Outdoor Electric Wheelchair Manufacturer, aiding those with walking difficulties and disabled people looking for an affordable kind of electric wheelchair. This lightweight electric wheelchair has a weight-endurance capacity of 100 kg. The wheelchair has fire-resistant substance, two-seat cushions, a back cushioning, a collapsible backrest, a removable leg rest, flip-up armrests, inflatable tyres, and can go upto 10 kilometers on a single battery charge.
It has all of the necessary functions that a user needs in a motorised wheelchair. The chair is suitable for utilization in the following scenario: post-surgery, post-paralysis, walking difficulties, severe injury, pelvis injury, and leg damage. They have the largest range of not only Power Wheelchairs, but also comfortable ones. When choosing the optimal mobility solution, adding power greatly upgrade independence by incorporating to their newest tech into all of your mobility demands. Their Mobility features and dependability equip you with complete power wheelchairs which provide you with a lifespan of dependability, comfort, and maximum mobility and independence.
Benefits Of Outdoor Electric WheelChair
Electric Power
This reason could seem to be terriby obvious, but it is considered to be one of the best features of an electric wheelchair. The mean advantage of having a powered wheelchair over a manual one is that it contains a small electric motor. This electric motor has the efficiency to move the power wheelchair in a much effortlessly and simple manner.
These electric wheelchairs do not need any upper body strength. These wheelchairs are also considered to be ideal for users who have limited arm or hand movement. This power wheelchair is so suitable that it permits mobility through a simple motion of the joystick.
This also authorize the wheelchair to proceed in any direction which is to proceed forward, side to side and backward. This electric wheelchair diminish the inconvenience of manual pushing of the wheels.
Quick And Easy Maneuver
If you differentiate a manual wheelchair with an electric wheelchair you would discern that most power wheelchair provide the patient better maneuverability. By supplying free motion of the power wheelchair while turning circles the user can effortlessly direct through small areas.
Such areas can be narrow paths or Indoor movement of the electric wheelchairs. If you notice an electric wheelchair makes it far simpler and effortless for the patients to steer around any type of obstacles be it indoor or outdoor.
Movement On Difficult Terrain
If you figure out that there will be rough terrain to handle, a power wheelchair is certainly depicted for outdoor exploring. Purchasing a power wheelchair could be the best choice to steer difficult terrain and inclines. With big tiers and decent power in the electric motor, it aids to get you over any type of hurdles.
You would discern that this power wheelchair is made in such a way that they permit the user to adventure over most difficult tracks. Additionally, a suspension is added in the power wheelchair which aids to make the mobility smoother than on a manual wheelchair.