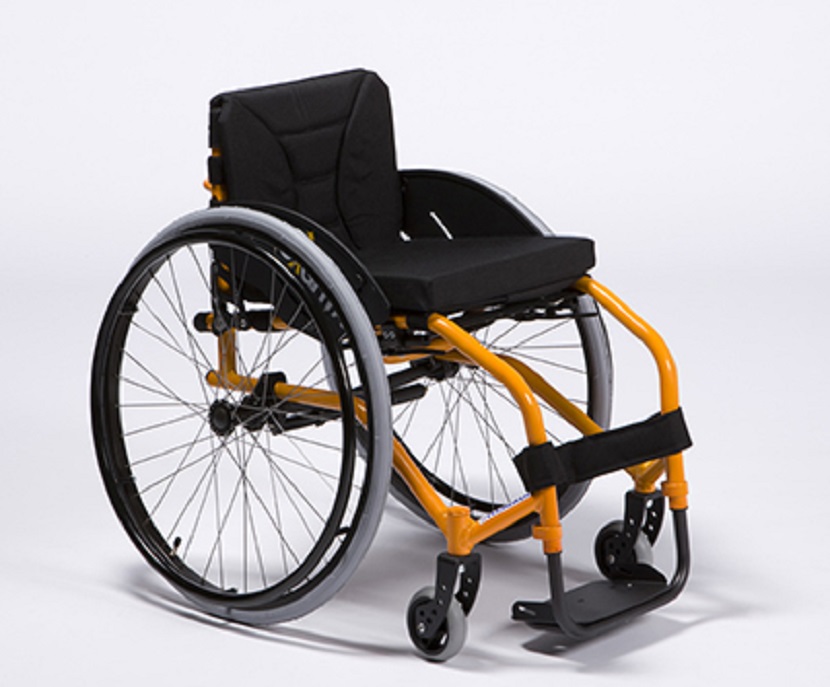 A wheelchair is a chair with wheels, used when walking is arduous or impossible because of illness, injury, problems related to old age, or disability. These can comprise spinal cord injuries (paraplegia, hemiplegia, and quadriplegia), cerebral palsy, brain injury, osteogenesis, imperfecta, motor neurone disease, multiple sclerosis, muscular dystrophy, spina bifida, and more. In this article, you will come to know about sports manual wheelchairs their uses and their benefits
Sports Manual Wheel Chair
A range of disabled sports has been developed for disabled athletes, including basketball, rugby, tennis, racing, dancing. The Sports Manual wheelchairs used for every sport have evolved to suit the specific requirement of that sport and often no longer resemble their everyday cousins.
They are normally non-folding (to increase severity), with a pronounced negative camber for the wheels (which offers0 stability and helps make sharp turns), and often are made of composite, lightweight materials. Even seating positions may be radically non-identical, with racing wheelchairs normally used in a kneeling position.
Sports Wheelchairs are rarely suited for everyday use, and are often a 'second' chair specifically for sports use, although some users prefer the sports options for everyday use. Some disabled people, specifically lower-limb amputees, may use Aluminum Sports Manual Wheelchair for sports, but not for day-to-day activities.
Sport Wheelchair Benefits
Sport wheelchairs are assembled for ease of movement, making them easy to operate regardless of their intended application. These wheelchairs are frequently lighter in weight than other wheelchair types, which allows them to be more manoeuvrable. Aside from their lightweight, sports wheelchairs are made of nylon upholstery, durable, and convenient to clean.
These wheelchairs have convenient storage options, such as a carrying pouch on the back of the seat, authorizing you to quickly move your goods into the chair without taking them out of the chair.
Many sports wheelchairs are also equipped with swing-away footrests, making it simple to manoeuvre them out of the way. You can lock your wheelchair in place with a single click of a button, removing the worry that your chair will move when you don't want it to.
Some sports wheelchairs are also furnished with detachable armrests, which permit you to remove them when you need to give your arms a greater range of motion as necessary. If you're using the armrests, you will admire the cushions, providing additional comfort while sitting.
Many sports wheelchairs are equipped with urethane tires, which are both long-lasting and low-maintenance, allowing you to save time on tire replacement and repair. Since sports wheelchairs are distinguished by the presence of swing-away or detachable arm and leg rests, consider these characteristics while shopping for a wheelchair.
What To Consider Before Buying A Sports Wheelchair?
When buying a wheelchair, there are numerous aspects to take into account. Here are some recommendations for choosing the best sports wheelchairs:
Get The Right Size
First and foremost, you must examine the size of the sports wheelchair that you will require. When you are deciding which wheelchair is best for you, the dimensions of your height, breadth, and weight are all pivotal considerations. If you are incredibly tall, you will want a wheelchair setup that is much dissimilar from someone short. Heavier people will need a wheelchair that is more durable and heavy-duty than someone lighter.
Make A Budget
The cost of a sports wheelchair can be pretty high. You should decide how much money you are prepared to pay out ahead of time. The price of a sports wheelchair is decided by the characteristics and functionality of the wheelchair. It would assist decide how much you intend to use the wheelchair and how much you require it before you begin using it.
Agility And Speed Of The Wheelchair
What kind of sports do you want to participate in while using a wheelchair? In most cases, sports wheelchairs are manufactured with a specific sport in mind. Sports chairs for basketball and tennis, for example, will need to be extremely swift and highly manoeuvrable to be effective.
They will need inclined wheels to provide steadiness during narrow turns. They will be composed of lightweight, robust materials like aluminium, titanium, or carbon fibre composite to ensure long-term performance.
Find Your Calling
Select a sports wheelchair that is specifically tailored for the sport you take part in. The chair setup is critical to attaining the highest possible performance. The back height and footplate layout should also be suitable, and chair height, width, and length are acceptable for your needs.
In addition to strapping, certain sports wheelchairs are furnished with a fifth wheel that works as an anti-tip device, permitting the chair to be held more steadily and securely.
Test Your Wheelchair
It is best if you can try out the wheelchair before buying it. It will provide you with an opportunity to decide whether or not the model you have picked is the best one for you. When looking for a sports wheelchair, it's better to get one from a wheelchair dealer, although recommends talking to many different wheelchair manufacturers first.
Accurate Wheelchair For Each Sport
It is not only those who need wheelchairs who can take part in wheelchair sports. Non-disabled individuals are more than welcome to join in a game, and they will nearly always find themselves up against a difficult challenge.